Exhibition - Paul David Wright
Exhibition, Painting
at Reims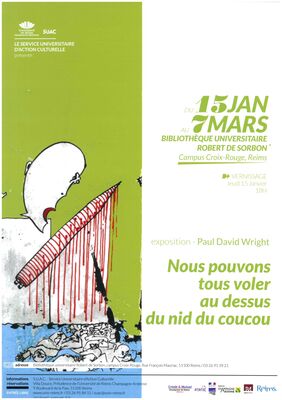 The exhibition "We can all fly over the Cuckoo's Nest" by Paul David Wright is part of a series of exhibitions under the title "Ambiguity of being."

The opening will take place Thursday, January 15, 2015 at 18h

Paul David Wright:
"Usually my work speaks to the ambiguity, both in form and content. In this exhibition, I play with the ambiguity of the line, and distorts the figures to better express an idea or an emotion.
The specific title 'We can all fly over the Cuckoo's Nest', freely inspired to Milos Foreman's film based on a novel, deals with the fact that we can transcend our human condition that often appears as totally insane. I was born in a period of human madness that seems to have continued throughout my life. But this is offset by my awe for what man has accomplished and what it can potentially accomplish today and tomorrow. For me, life is a magical state fragile course, but we should celebrate.
In this exhibition I chose to focus on my use of the line. I expose some of my notebooks. I also exposes some engravings, paintings, installations and 'articulated' that come from these books. Twenty four articulated in the installation 'We can all fly over the Cuckoo's Nest' exist on a large scale in a 38m long mural on the outside wall of a German art hotel in Berlin (smartloft) since March . "